Allow us to introduce Bootleg Betty
The infamous badass batch, bringer of fun, Ding Dong Ditch champion of the west…Tabatha Klocke.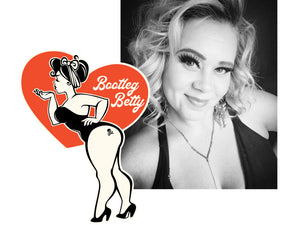 Hard Times. High Spirits.
Betty hit the ground running in March of 2020 at the start of the lockdown. Tabatha knew that more than a few of her family and friends were feeling isolated. She decided to bring a much needed smile and some hospitality to their doorstep. Like a bootlegger of old, she would drop off her fresh batch cocktail mixers, custom ice blocks, garnishes, and needed bar tools, leaving only a text that read "on the porch" with a little red heart emoji.
By April, Bootleg Betty was born.
A Devoted Fan Base
Night after night, on doorstep after doorstep, lovingly curated packages of deliciously crafted cocktails began appearing around Boulder, Colorado — and the word spread like wildfire! Soon, Betty was not only being spotted in other areas of Colorado, but in her hometown of Edwardsville, Illinois. Betty was making & shaking day and night, turning out all kinds of fun & fresh recipes to nurture her growing network of friends and fans.
Bootleg Betty Today
Today Betty can be found burning the midnight oil, over bubbling stock pots, squeezing mountains of fresh citrus, and batching up new blends in her new location in Boulder. Lovingly creating fresh, pressed juice cocktail mixers, innovative shelf stable garnishes, and thoughtfully crafted infusion recipes to bring world-class cocktails and mocktails to the masses — and most importantly, straight to your door.
Tabatha Klocke
AKA Bootleg Betty, AKA Head Mixtress, AKA Queen Bee is known for her magnetic energy, killer instincts for hospitality, and front of house innovation. Tabby brings 20+ years of hospitality experience and a unique skill for creating flavorful fresh profiles to the party. She gathers inspiration for her badass batch cocktails, bloody mary, and fresh margs from all across the country. She is continually working on creating fun cocktail bases to make everyone feel like a cocktail pro. Tabby is committed to her craft, spending time evaluating the needs of customers and clients, as well as her never ending dedication to creating innovative new products.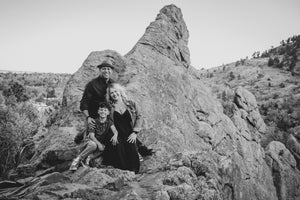 The Social Club
Bootleg Betty is proud to announce the opening of our new venture the Social Club, which is a versatile community based co-working space & small event venue.
Social is also the new home to Betty's commercial kitchen, and first love, Cocktail CoOp. Her bar service is available for all event needs.
We can't wait to be social with you!